Founder, BADASS Beauty Bar (B³) Online Store
Scholastica "Sky" Tanyi is a Black entrepreneur hailing from North Carolina, USA who has called China, and specifically Shanghai, home for the past seven years. To counter the lack of diversity and promote African culture in China, she created her online store BADASS Beauty Bar (B³). In Sky's words, "BADASS Beauty Bar serves looks, skincare & fashion! At B³, we bring high quality, customized, natural skincare whose properties have been passed down from a lineage of royalty; and unique handmade accessories, wherein each item is a nod to Africa."
Here, Sky shares her thoughts about "growing up" in Shanghai, her personal definition of beauty, and the only lipstick she's ever finished.
Scholastica « Sky » Tanyi est une entrepreneure noire originaire de la Caroline du Nord aux États-Unis qui vit à Shanghai depuis sept ans. Pour faire réaction à l'absence de diversité en Chine ainsi que promouvoir la culture africaine en Chine, son pays d'adoption, Sky a créé sa boutique en ligne BADASS Beauty Bar (B³).
Selon Sky, "BADASS Beauty Bar fait tourner des têtes ! Chez B³, nous fournissons des soins pour la peau d'origine naturelle fabriqués avec des secrets provenant d'une lignée royale ; ainsi que des vêtements et des accessoires faits sur mesure, de qualité supérieure et mettant le continent africain à l'honneur. »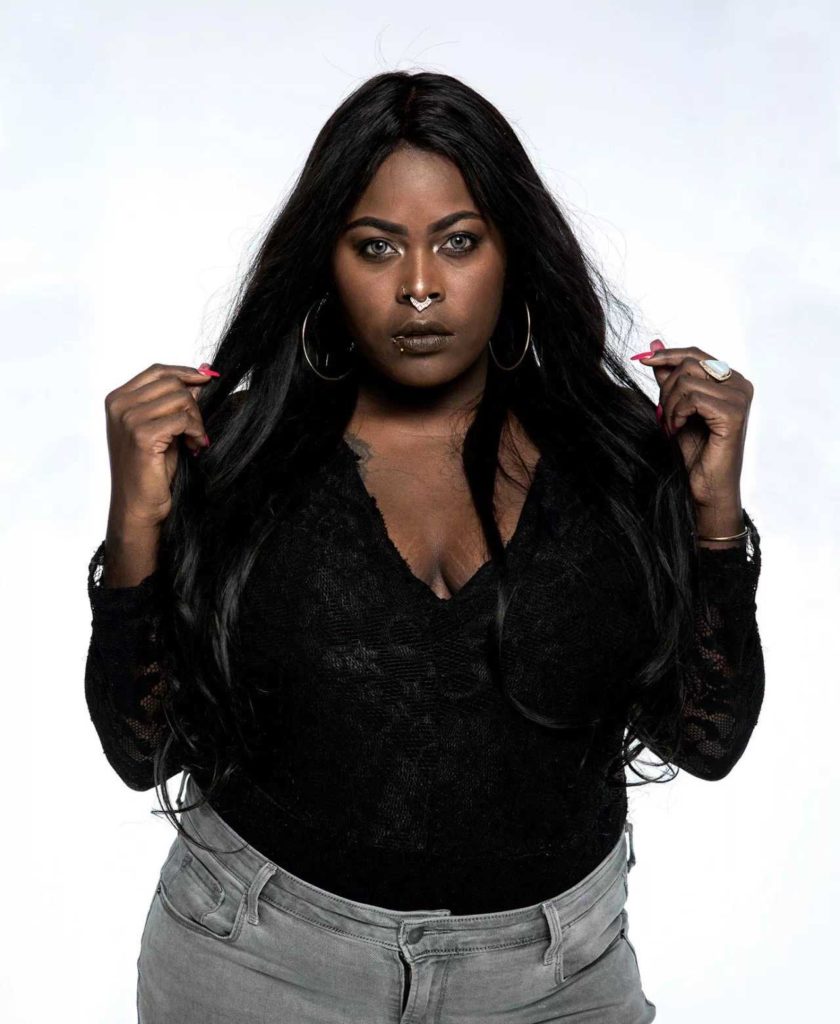 Can you tell us a bit about you?
My name is Scholastica, but most know me by Sky. I am from Durham, North Carolina, USA. My dad is Cameroonian, and my mom is native of NC.
Mon nom est Scholastica, mais pas mal tout le monde m'appelle Sky. Je suis originaire de Durham en Caroline du Nord, aux États-Unis. Mon père est camérounais, et ma mère est native de la Caroline du Nord.
2. Where do you currently live, and how long have you lived there?
I currently live in Shanghai, and I have for the past 7 years. I like to tell people I grew up in Shanghai. Not in the sense of childhood to adulthood, but maturity-wise. All of the maturing or "growing up" I've done professionally, I acquired here. Shanghai is such a melting pot, so learning how to reach so many different people and cultivating long-term relationships with folks from all around the world has been a key influence. My personal development has been mind-blowing. My first time traveling out of the States was moving here, so that was monumental for me. Every year since, I've been pushed to grow so much more!
Pourriez-vous vous présenter ?
Je vis à Shanghai depuis les sept dernières années. J'aime dire aux gens que j'ai grandi à Shanghai. Pas autant d'un point de vue du passage de l'enfance à l'âge adulte, mais plutôt d'un point de vue de la maturité atteinte. Professionnellement parlant, j'ai mûri ici. Shanghai est un melting pot, et donc établir et entretenir des relations profondes avec des gens provenant des quatre coins du monde constitue un acquis indispensable. Mon cheminement personnel a par ailleurs été laborieux. La première fois que j'ai quitté les États-Unis a été pour venir ici, donc c'était gigantesque pour moi. J'ai énormément grandi et mûri chaque année depuis !
What's the concept behind your brand or business, and why did you create it in the first place?
Confidence in whoever you are and whatever that looks like. I was always flattered when I was called "odd" or "unique" because to me, that meant "special". I want everyone to feel that their unique beauty is something special and to be proud of. That's why the colors of the brand stand out. They are bright, and different, and they make people do a double take.
Quel est le concept et pour quelle raison l'avoir créé ?
Avoir confiance en qui l'on est et en son apparence. J'ai toujours été flattée que les gens me trouvaient « étrange » ou « unique », parce que cela signifiait que j'étais « spéciale ». Je veux que chacun ressente que son unicité est quelque chose de spécial, et digne de fierté. C'est pour ça que mon image de marque est percutante. Les couleurs sont éclatantes et flamboyantes, et les gens le remarquent.
What does beauty mean to you?
Beauty is an overflow and a lack. It is quiet and loud. It is everything and nothing at all. Beauty is seen by all or by none. That is the beauty of beauty.
Qu'est-ce que la beauté signifie pour vous ?
La beauté est un surplus et un manque. C'est un chuchotement et un grondement. C'est tout et rien en même temps. La beauté peut être vue par tout le monde, ou par personne. Voilà la beauté de la beauté.
What do you think is the first thing that should be implemented to foster a more diverse and inclusive vision of beauty?
I think we need to get rid of the mindset of "the less obtainable, the better". It's a lot deeper and less vain than what we've been conditioned to think. Representation fosters self-esteem and can save lives. Once this is recognized, more brands will understand the necessity of it.
Selon vous, quelle serait la 1ère action à mettre en place pour avoir une beauté plus inclusive ?
Je crois que l'on devrait se débarrasser de l'idée que « plus c'est rare, mieux c'est. » C'est plus profond et moins vaniteux que ce que l'on est porté à croire. La représentation peut inspirer l'estime de soi et sauver des vies. Une fois que ceci sera mieux compris par les marques, je crois qu'elles verront la nécessité d'une meilleure représentation.
Bonus question: What beauty product(s) have you used until the very last drop?
I only successfully used two products to the very last drop, and that is the Retro Matte Lipstick in Ruby Woo from MAC Cosmetics and BADASS Beauty Bar's Ghanaian Black Soap.
Question bonus : Quel(s) produit(s) avez-vous utilisé jusqu'à la dernière goutte ?
Les deux seuls produits que j'ai complètement terminés sont le rouge à lèvres Retro Matte Ruby Woo de MAC, et le savon noir du Ghana de BADASS Beauty Bar.
Thank you, Sky!
Merci Sky !